A Monthly Prayer Service in the Spirit of Taizé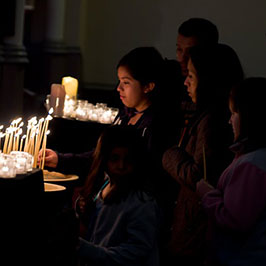 Praying together online
If you are not able to join us safely in person, we welcome you to pray with us online, live or at a time of your choosing!
—October 12, 2020

» Download the October worship aid «
then go to the October prayer video at the church's YouTube channel:
» 7:00 pm 10/12 YouTube livestream «
—September 14, 2020

» Download the September worship aid «
then go to the September prayer video:
» 7:00 pm 9/14 YouTube livestream «
—August 10, 2020

» Download the August worship aid «
then go to the August prayer video:
» 7:00 pm 8/10 video «
—July 13, 2020

» Download the July worship aid «
then go to the July prayer video:
» 7:00 pm 7/13 Facebook livestream «
—June 8, 2020

» Download the June worship aid, «
then go to the June prayer video:
» on Youtube «
» on Facebook «
—May 11, 2020
» Download the May worship aid, «
» then go to the May prayer video. «

—April 20, 2020
» Download the April worship aid, «
» then go to the April prayer video. «

Peace Be With You
When Jesus stood in the midst of his disciples for the first time after the resurrection, his first recorded words were "Peace be with you." This amazing gift is given to us, his disciples in this current age, as well. But amidst the stress, pain, and frustration that often surrounds us, that peace can be difficult to draw upon.


Peace Within Us, Peace Around Us
Prayer has the power to re-connect us to an awareness of God's peace. Like a cool breeze in the heat, we are refreshed. Like a fountain in the desert, we can draw upon it and share it. If we know peace in our hearts, we can then act peacefully. Peace within us leads us to foster reconciliation and peace among all people.
How We Pray
Personal prayer is complemented by praying together. We are not alone, and the prayer of others supports our own prayer. Gathered together, we acknowledge Christ in our midst.

Prayer in the spirit of Taizé (pronounced "teh-ZAY") is an ecumenical form of prayer, for Christians of all traditions, modeled after a monastic community in Taizé, France. It is a very different experience from a 'normal' church service. No one stands up front; there is no sermon. The church is lit by candles. The simple monthly service is meditative in character, consisting of songs, scripture, a service of light, an extended period of silence for meditation, and prayers for the world.
Singing
The music of this style of prayer generally consists of simple, short, repetitive songs that foster meditation. Using just a few words, such songs express a basic reality of faith and are easily grasped by the mind. As the words are sung over many times, this reality can penetrate the whole being. Meditative singing thus becomes a way of listening to God.
Silence
A time of silence is a rare treat for in our society. Our prayer allows everyone to take part in an extended time of expectant listening and attentive waiting on God. This simple service can draw one into an experience of God's presence and love in one's innermost being.
Join Us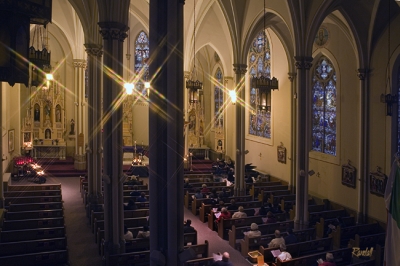 During this time of social distancing, we will be "praying at home" and offering the prayer by video on Facebook and YouTube. Stay tuned for details by signing up for our emails or checking back with us on Facebook.
We welcome your participation in these opportunities for prayer. Please join us at 7:00 pm on the second Monday of each month. St. Mary's Church is located at 423 First St. NW, Grand Rapids, MI 49504.

May the peace of Christ, which surpasses all understanding, be in your hearts and minds!